Song of the Day: Stormy Weather, words and music by Harold Arlen and Ted Koehler debuted in 1933 at the Cotton Club in Harlem by Ethel Waters [YouTube link]. But one of its most famous versions was recorded by the Tony- and Grammy-award winning singer and actress Lena Horne, who died on 9 May 2010, at the age of 92. Lena sang this timeless tune in the 1943 movie of the same name. Check out Lena's film rendition and her 1943 single, which went to #21 on the U.S. Pop chart [YouTube links]. In honor of the centenary of her birth on 30 June 1917, I celebrate the gift that was Lena.
On Facebook, I prefaced this "Song of the Day" entry with this comment: It is officially June 28, 2017; on this date in 1969, in the wee small hours of the morning, the NYPD raided the Stonewall Inn on Christopher Street in Greenwich Village. With all the hoopla of this past weekend's "Pride" events nationwide, some folks seem to forget that the parades emerged initially to commemorate what happened in the early morning hours of June 28, 1969. For despite the ritual nature of these police raids, it was on this night that the patrons fought back on the basis of a crucially important libertarian premise; they rioted and rebelled in defense of their individual rights to live their own lives and to pursue their own happiness in private, safe havens, away from the brutality and harassment they faced on an almost daily basis. It is in this spirit that I add another song to my Summer Dance series. From "To Wong Foo", it's Chaka Khan blowing a hole through the roof with "Free Yourself":
Song of the Day: Free Yourself, words and music by Sami McKinney, Denise Rich, and Warren McRae, is given a scaldingly hot treatment by Chaka Khan, whose pipes tear the roof off the motha'. The song is featured on the soundtrack to the 1995 comedy, "To Wong Foo, Thanks for Everything! Julie Newmar" (and is also played over the end credits). I dedicate it today to those who participated in the Stonewall Rebellion, which began in the wee hours of June 28, 1969, in response to yet another regular police raid on a gay bar, this one in NYC. It remains a symbolic event for those who have sought equality before the law and the right to live their lives and to pursue their own happiness, without the interference of government. It began on this date as a quintessentially libertarian reaction against state repression of establishments that catered to a clientele of gays, lesbians and even their straight friends, who in their consensual social interactions just wanted to enjoy themselves at a Christopher Street bar in Greenwich Village, a safe haven away from police and social brutality (though it should be noted that such bars were typically "protected" by Mafioso who traded in under-the-table police payoffs). This track from the 1990s wasn't on the Stonewall Inn's famed 1969 jukebox, but it is an appropriate dance burner to mark the day, in keeping with our Summer Dance Party. Check it out on on YouTube.
Song of the Day: Hard Day, with words and music by George Michael, is posted on a day on which we honor the memory of the late Michael Jackson, while also celebrating the birthday of the late George Michael. This song can be found on the singer's 1987 first solo album, "Faith"; it went to the top 5 on the Billboard Dance Club Songs Chart. Check out the funky single and the Shep Pettibone 12" remix.
Song of the Day: Jam features the words and music of Rene Moore, Bruce Swedien, Teddy Riley, and Michael Jackson, who died on this date in 2009. The song, from Jackson's 1991 album "Dangerous," features a rap by the late Heavy D (who died in 2011). Take a look at the official video [YouTube link], which features the immortal Michael Jordan. Also check out the Silky 12" Remix, Space Vibes Mix, and a live version with a sweet dance segment by MJ. And check out a great mash-up of "Uptown Funk" and "Jam," featuring Mark Ronson, Bruno Mars, and MJ, as well as this one, this 24K one, and that one; and another mash-up with MJ and Bruno of "Beat It" and "Beating on Heaven's Gate." And for another visit down memory lane, check out a 2017 remix of MJ's "Smooth Criminal" [all YouTube links].
Song of the Day: Shake it Off features the words and music of Max Martin, Shellback, and Taylor Swift, who recorded this song for her critically acclaimed 2014 best-selling album, "1989." Check out the official video single, the Crysis Remix, Baasik Remix, ARVFZ Remix, Neon NiteClub Remix, and the Electro Remix. What's a Prideful Dance Weekend without a little throwdown between Katy Perry and Taylor Swift? Especially since these two may have finally buried the hatchet---and not in each other's heads!
Song of the Day: Chained to the Rhythm features the words and music of Skip Marley (grandson of Bob, and featured on the track), Max Martin, Sia Furler, Ali Payami, and Katy Perry, who released this recording as the first single from her fifth studio album, "Witness" (2017). This rhythmic track went Top 5 on the Billboard Hot 100 and #1 on the Dance Club Songs chart. In fact, it was the seventeenth consecutive #1 Dance Club single for Perry, the longest unbroken streak of #1 dance club hits in the history of the Billboard Dance charts. Check out the chill original video single, and then explore the Lil Yachty Trap Remix, Cristian Poow Remix, and Fomichev Remix, before kickin' it into high gear with the Jerome Price Remix, Syn Cole Remix, Andy Fasa Remix, Ray Rhodes Remix, Oliver Heldens Remix, and the Deep House Mix.
Song of the Day: Fun credits nine writers, including the two guys who recorded it as a duet for the 2015 album, "Globalization": Pitbull and Chris Brown. Check out the video single, audio single, Damaged Goods Remix, and the Jump Smokers Remix. We're dancing all weekend in NYC, so stay tuned!
Song of the Day: I Feel it Coming features the words and music of Thomas Bangalter, Guy-Manuel de Homem-Christo, Martin McKinney, Henry Walter, Eric Chedeville, and Abel Tesfaye, aka The Weeknd. This recording features the electronic duo known as Daft Punk, and can be found on the third studio album of The Weeknd, "Starboy." The song rose to #4 on the Hot 100 chart and #12 on the Billboard Dance Club Songs chart. The Weeknd's vocals sound like he is channeling Michael Jackson. It's just got that danceable, but breezy summer feel, a perfect way to officially kick off my second annual Saturday Night Summer Dance Party, where I will be posting a danceable track every Saturday (and even throughout some weeks) from now until the last day of Summer. Check this track out on YouTube: the single (actually the official video too), the Mert Altin Remix, the Nathan C Remix, Jako Diaz Remix, and the TOFU Remix. It's 12:24 a.m. in NYC and the Summer Solstice has come to the Northern Hemisphere; let the dancing begin!
I am honored to announce that the Kindle edition of Barbara Branden's ten-lecture course, "Principles of Efficient Thinking" (or POET, as we fondly call it) has finally been published, and a print edition is on the way as well. It is entitled Think as if Your Life Depends on It: Principles of Efficient Thinking and Other Lectures.
<![if !vml]>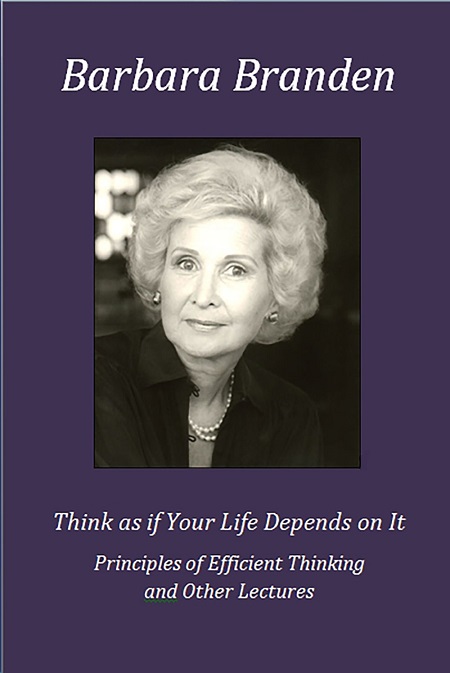 <![endif]>
The original lecture series was presented by Barbara Branden in 1960 under the auspices of the Nathaniel Branden Institute and, with Ayn Rand's blessings, it was considered part of canonical Objectivism. As both Robert L. Campbell and I wrote (in our "Prologue" to the JARS symposium, "Nathaniel Branden: His Work and Legacy"):
[Nathaniel] Branden tells us that "[t]he term ["psycho-epistemology"] was first used, in print, by Ayn Rand, to designate a man's 'method of awareness,' in For the New Intellectual. However, the concept of 'psycho-epistemology,' as used in Objectivism and in Biocentric Psychology, was originated neither by Miss Rand nor by myself but by Barbara Branden who, in the mid-1950s, first brought this field of study to our attention and persuaded us of its importance." Branden goes on to define "psycho-episemology as 'the study of the mental operations that are possible to and that characterize man's cognitive behavior." He adds: "There is clearly a degree of interpenetration between epistemology and psycho-epistemology."
Indeed, Barbara Branden's ten-lecture course . . . "Principles of Efficient Thinking," was the first presentation of what might be termed an "Introduction to Objectivist Psycho-Epistemology," a virtual mirror of the title of Rand's [Introduction to Objectivist Epistemology], which nicely complements and supplements the material in Rand's work. Barbara Branden's . . . course was revised to include quoted passages from canonical Objectivist writing in [1969], and that version was transcribed by Roger E. Bissell, for forthcoming print publication . . . along with several additional essays by Branden, derived from lectures she gave in 1995, 2006, and 2011. Nathaniel Branden's guest lecture on "the fallacy of the stolen concept" is also included in the forthcoming "Principles" book.
(I have omitted from the above passages citations and references, which can be found in the published version of our "Prologue" to the Symposium.)
What is most important for the purposes of today's announcement is that the book, which was forthcoming, has now arrived! It gives me great personal and professional pleasure to finally see it in print. "Personal" because I have made no secret of the fact that I loved Barbara dearly; and "Professional" because this is truly a wonderful collection of lectures that probe so many aspects of an underappreciated component of Objectivist philosophy: psycho-epistemology.
For those who may have the mistaken impression that Ayn Rand only focused on conscious, volitional and rational thinking as essential to the survival and flourishing of the individual, it may come as a surprise to discover that she paid much attention to what many thinkers, from Gilbert Ryle to Michael Polanyi, have termed the "tacit" dimensions of consciousness. Among those "tacit" dimensions that Rand examined were two essential components: "sense of life" and "psycho-epistemology." As I explain in Ayn Rand: The Russian Radical, just as the conception of "sense of life" pertains to the "interrelationship between mental content and method from the vantage point of content," the concept of "psycho-epistemology" pertains "to the interrelationship between content and method from the vantage point of method." Like one's "sense of life," the development of one's habitual psycho-epistemology is normally a subconscious process that evolves over time.
And here is where Barbara Branden's work is significant. As Barbara explains in her very first POET lecture:
One of the most widespread of myths is the belief that everyone knows how to think, and that no learning process is required. Certainly no education in efficient thinking is offered, either by parents or by schools. We are taught to walk, to read, to write, to play baseball, but the most important of all human functions is left to blind chance, to trial and error, to each man's unaided efforts; and assuming that the knowledge of how to think is self-evident, people take their own mental processes as necessarily valid, as not to be questioned or examined.
Barbara's focus here is not just on the "Principles of Efficient Thinking" but on those often tacit practices that undermine the capacity of the individual to think efficiently. From my Foreword to the book:
In Barbara Branden's lectures, we are introduced to much of the early Objectivist vernacular: the capacity to augment "focus," the contrast between "back-seat driving" and "front-seat driving," between "concrete-bound thinking" and "thinking in principles," the nature of insight, intuition, creativity, and language. Included here are extended discussions of the psycho-epistemological premises underlying, and social functions served by, evasion and repression, as well as some of the earliest Objectivist statements of the rules of definitions, genus and differentia, equivalence, fundamentality, circularity, negatives, obscurity, and the purpose of ostensive definitions. We are given a grand lesson in how to recognize the means by which efficient thinking is undermined, through "thinking in a square," the obfuscation of language, the use of dogma, "cue words," sloganeering, memorized maxims and the often unrecognized employment of irreducible primaries, floating abstractions, frozen abstractions, frozen absolutes, false axioms, false analogies, false alternatives, and the aforementioned "stolen concepts." At the root of the stolen-concept fallacy in particular is the error of "context-dropping," and in the end, it is the supreme importance of "context-holding" that makes possible "the psycho-epistemological habit of integration." Barbara's perceptiveness shines throughout; she understands the inextricable connection between "context-holding" and respect for the "Law of Non-contradiction." Like Rand, she indicts "the very institution supposedly devoted to the pursuit of knowledge---that is . . . today's universities," which provide "the most blatant examples of the failure to integrate ideas into a consistent system."
For a person like myself, who has spent the bulk of his professional career championing "dialectics" as "the art of context-keeping," this book is virtually a manual on the practice of that art. It emphasizes the various skills that one must employ in grasping the larger context in one's analysis of any object, event, issue, or social problem. In fact, it provides a gold mine of insights on how the practice of context-keeping is essential to reality-based integration.
I recommend this work to all those who are interested not only in the principles of efficient thinking and in identifying the ill-formed habits that undermine it, but also to all those who are interested in the history of ideas, especially in the history of Objectivism as a philosophy. There is simply no comparable work like this in print. Many of us know of the oral tradition in Objectivism; not enough of that tradition has been committed to print. This work has been a long-underappreciated contribution to the canon of Objectivism, which Rand herself endorsed, even after her 1968 break with both Nathaniel Branden and Barbara Branden.
Fortunately, the Estate of Barbara Branden has not only made these lectures available to us as a printed record of an important aspect of Objectivist intellectual history; we are also treated to three additional lectures that enlighten us as to the various nuances and interpretive reflections that Barbara brought to this subject in her later years.
The book is a powerhouse. Get it. Read it. Savor it. It should be made part of your Bucket Reading List. The chief lesson that you will take away from it is that, indeed, you must "think as if your life depends on it . . . because it does!"
Postscript: This announcement was also noted by Anoop Verma here, here, and on Facebook.
Song of the Day: Copacabana (At the Copa) features the words and music of Jack Feldman, Joseph Thornton, and Barry Manilow, who was born on this date in 1943. This coming week, I will begin what has now become an annual Summer series: my Saturday Night Dance Party, though there will be many days during the week when we will be partying with dance music from today and yesterday. There was a time when if I heard Barry Manilow's name announced on the radio, I'd roll my eyes; that changed as the years went by, especially when I discovered his superb jazz-infused album, "2:00 A.M. Paradise Cafe," which featured the wonderful Johnny Mercer lyrics to "When October Goes," for which Manilow composed the music [YouTube link]. But for our Brooklyn birthday boy, I figured in keeping with the coming Dance Party entries, I'd feature the song that won Manilow a Grammy for Best Performance, Pop Male. So check out Lola at the Copa on this Dance Remix, the 2012 Remix, Lola Goes Wild Remix, Maxi Dance Mix and of course, the original single [YouTube links].
In a Facebook thread, that raised the issue of Rand's opposition to Ronald Reagan's 1980 presidential bid, because of his views on abortion and his courting of the Religious Right, I mentioned the fact that Rand was not always opposed to Reagan, and that she initially saw him as a promising public figure. Here is my Facebook post:
Granted Rand's later views of Ronald Reagan, beacuse of his entanglements with the religious right, she initially had high hopes for him, starting with his famous "Rendezvous with Destiny" speech in support of the Goldwater presidential bid of 1964. In The Objectivist Newsletter essay, "It is Earlier Than You Think," she wrote an obituary for the Goldwater campaign:
Granting the philosophical chaos of our age, was it possible to conduct a better campaign in purely political terms, and did we have a right to expect it? It was and we did. A brief glimpse of it, the best of the campaign, was a speech by Ronald Reagan, televized much too late---in the last week before the election. All of the candidate's speeches should have been on a level equal to Mr. Reagan's. But none of them approached it. It is impossible to tell whether a campaign conducted on that level would have won. I think it might have. But what one can say with certainty is that it would not have ended in so devastating a defeat.
Rand was unsparing in her criticisms of some of the dynamics that she believed brought the Goldwater campaign down to defeat:
As it stands, the most grotesque, irrational and disgraceful consequence of the campaign is the fact that the only section of the country left in a position of an alleged champion of freedom, capitalism, and individual rights is the agrarian, feudal, racist South. The Southerners, undoubtedly, were voting on the basis of "tradition"; but it was hardly a tradition of pro-capitalism. This, perhaps, is the clearest indication of the extent to which Sen. Goldwater had failed to present his case.
So Rand was not always adamantly opposed to Reagan; in fact, in an essay she wrote in 1967, she went on to reflect on that 1964 speech that Reagan had given and, in "The Wreckage of the Consensus", she stated:
The country at large is bitterly dissatisfied with the status quo, disillusioned with the stale slogans of welfare statism, and desperately seeking an alternative, i.e., an intelligible program and course. The intensity of that need may be gauged by the fact that a single good speech raised a man, who had never held public office, to the governorship of California. The statists of both parties, who are now busy smearing Governor Reagan, are anxious not to see and not to let others discover the real lesson and meaning of his election: that the country is starved for a voice of consistency, clarity, and moral self-confidence---which were the outstanding qualities of his famous speech, and which cannot be achieved or projected by consensus-seeking anti-ideologists.
As of this date, Governor Reagan seems to be a promising figure---I do not know him and cannot speak for the future. It is difficult to avoid a certain degree of skepticism: we have been disappointed too often. But whether he lives up to the promise or not, the people's need, quest for, and response to clear-cut ideas remain a fact---and will become a tragic fact if the intellectual leaders of this country continue to ignore it.
Evidently, with Reagan's courting of the Religious Right in order to win the 1980 Presidential election, Rand's hopes had been sunk. But she was clearly someone who thought Reagan a promising political figure.
Postscript: On 16 July 2017, I added a comment to the Facebook thread concerning an essay written by Ed Hudgins, which appears on the site of The Atlas Society: "Was Ayn Rand Wrong on Reagan." Here are my follow-up comments:
Very good and provocative article, Ed; it's a hard call to make.
Ironically, one thing I'm not sure she would have been comfortable with was Reagan's naming of Greenspan to the chairmanship of the Fed (even though she was at the ceremony when Ford named Greenspan Chair of the Council of Economic Advisers). Considering that Greenspan had once argued against the Fed's very existence, in "The Objectivist" and that Rand was fundamentally opposed to central banking as the source of the boom-bust cycle, I'm not sure how she would have evaluated Greenspan or Reagan with regard to his promotion; she was certainly very savvy about how government institutions corrupt even the most idealistic among us.
But then again, she was an "anti-Nixonite for Nixon," and it was Martin Anderson and others who persuaded Nixon to end the draft, which Rand viewed as involuntary servitude. So her stance on Reagan may have evolved; it's a difficult call.
And yes, Ludwig, there was a serious strain of Nietzschean Marxism in the Silver Age period of Russian culture, into which Rand was born. Nietzsche's influence on many schools of thought in that period is the subject of many books written and edited by historian Bernice Rosenthal. A very interesting period in Russian intellectual history, indeed.
In a follow-up to Ed Hudgins's comments on some of the policies of Nixon, Carter, and Trump, I discussed Rand's attitudes toward Nixon and Greenspan:
You're correct, of course [that Nixon expanded government; Carter de-regulated some agencies; and Trump's record is mixed thus far]; and Rand, as I recall, in quite a few essays that appeared in her "Ayn Rand Letter" relentlessly criticized Nixon on his wage and price controls and the entire Watergate scandal, which she saw as an outgrowth of any system that "mixed" elements of a market economy and statism.
On the Greenspan phenomenon, I discussed some of the issues (in the paragraph beginning: "A long time ago, in a galaxy far, far away, there was a gentleman named Alan") in this Notablog post: "The New Age of Rand? Ha!"
Song of the Day: Hello, Dolly! ("Before the Parade Passes By"), music and lyrics by Jerry Herman, was featured in the 1964 Broadway musical that clobbered yesterday's "Funny Girl" at the Tony Awards that year. It won a then-record 10 Tony Awards, including Best Musical, and Best Performance by an Actress in a Leading Role (Carol Channing). Ironically, Streisand, who lost the Tony to Channing, would go on to star in the 1969 film version of the musical. In any event, this year, it is nominated in the Best Musical Revival category, with Bette Midler receiving a nomination for "Best Performance by an Actress in a Musical." Check out the original Carol Channing rendition and Bette Midler's rendition. And so concludes our mini-Tony tribute; check out the Awards tonight.
Song of the Day: Funny Girl ("You are Woman, I am Man"), music by Jule Styne, lyrics by Bob Merrill, was featured in the 1964 Broadway musical that made Barbra Streisand a star. Streisand would go on to sing this duet with Omar Sharif in the 1968 film version of the musical about the life of Fanny Brice. Check out the Broadway musical version [YouTube link], which featured the Tony-nominated Sydney Chaplin, son of Charlie, as Nicky Arnstein. And then check out the charming 1968 film version [YouTube film clip], the one in which Babs got her Best Actress Oscar, tying with the Great Kate, who won for "The Lion in Winter." This was only one of six ties in Oscar history and both actresses were certainly equally superb in their roles.
Song of the Day: Show Girl ("Liza, All the Clouds'll Roll Away"), music by George Gershwin, lyrics by Ira Gershwin and Gus Kahn, debuted in the 1929 Ziegfeld musical by Ruby Keeler (of later "42nd Street" fame), with stage accompaniment provided by the Duke Ellington Orchestra. Keeler's husband, Al Jolson [YouTube link] recorded the song, and is said to have freqently serenaded Ruby with it. And for a trip down memory lane, check out this wonderful instrumental version [YouTube link] by the Quintet of the Hot Club of France, featuring the great jazz violinist Stephane Grappelli and the legendary gyspy jazz guitarist Django Reinhardt.
Song of the Day: You Never Know ("At Long Last Love") words and music by Cole Porter, written for the 1938 Broadway musical, where it was sung by Clifton Webb (yes, he of "Laura" fame!). It was also featured in the 1975 film, "At Long Last Love." It's become a standard of the Great American Songbook, and has been covered notably by Ella Fitzgerald, Frank Sinatra, Lena Horne (who provides the lovely introduction), Nancy Wilson, Jack Jones, and Carmen McRae (a lively live recording featuring Jimmy Rowles on piano and Joe Pass on guitar) [YouTube links]. Today begins my mini-Tony Awards tribute to music from the Broadway stage. The Tonys air on CBS this Sunday, June 11, 2017.
Song of the Day: Raspberry Beret features the words and music of our birthday boy, Prince, who would have turned 59 today, were it not for his untimely death in April 2016. This song went to #2 on the Billboard Hot 100 in 1985, the first release off of "Around the World in a Day," by Prince and the Revolution. The song was considered "neo-psychedelic pop" but the funk is always detectable. Check out a clip of the original single (alas, the Estate of Prince Rogers Nelson has restricted access to his music).
After The Journal of Ayn Rand Studies published its blockbuster 2016 double issue, "Nathaniel Branden: His Work and Legacy" (getting a few reviews along the way), JARS returns to its biannual format with a brand new issue. The print version of the July 2017 issue will be on its way to subscribers in the coming weeks, and will be published electronically by JSTOR and Project Muse as well. It features essays from a wide variety of perspectives, along with reviews of books on timely topics and continuing discussions of key issues in Rand studies.
<![if !vml]>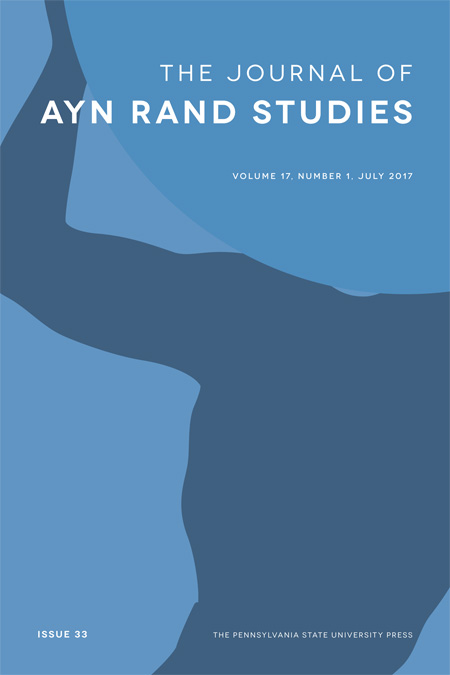 <![endif]>
Readers should go to our 2017 index and click into the drop-down menu for Volume 17, Number 1 - July 2017 (Issue #33). Under the "Table of Contents," readers will find abstracts for each of the essays listed below; under "Contributor Biographies," readers will learn more about the writers featured in our newest issue.
Table of Contents
ARTICLES
Russian Egoism Goes to America? A Case for a Connection between Ayn Rand and the Shestidesiatniki - Aaron Weinacht
Just Who Is John Galt, Anyway? A Carnivalesque Approach to Atlas Shrugged - Charles Duncan
The Beneficiary Statement and Beyond - Merlin Jetton
Ultimate Value: Self-Contradictory - Robert Hartford
Six Years Outside the Archives: The Chronicle of a Misadventure, in Three Acts - Robert L. Campbell

REVIEWS
Debunking Neosocialism (a review of Christopher Snowdon's book, Selfishness, Greed, and Capitalism: Debunking Myths about the Free Market) - Reviewed by Gary James Jason
Debunking Ecofundamentalism (a review of Rognvaldur Hannesson's book Ecofundamentalism: A Critique of Extreme Environmentalism) - Reviewed by Hannes H. Gissurarson
After the Avant-Gardes (a review of After the Avant-Gardes: Reflections on the Future of the Fine Arts, edited by Elizabeth Millan) - Reviewed by Troy Camplin

DISCUSSION
Reply to Roger E. Bissell: Thinking Volition - Merlin Jetton
Rejoinder to Merlin Jetton: Conditions of Volition - Roger E. Bissell
Reply to Marsha Familaro Enright: Remembering the "Self" in "Self-ish-ness" - Robert White
Rejoinder to Robert White: The Problem with "Selfishness" is Still Problematic - Marsha Familaro Enright

JARS is published by Pennsylvania State University Press, but is distributed by the Johns Hopkins University Press Fulfillment Services. Folks wanting to obtain a subscription should inquire here. Enjoy!